5/24/06: Old Salty continues at Hop Devil and is also appearing at dba and Grey Lodge.
5/16/2005: Old Salty Bourbon keg is up at Hop Devil.
5/1/2005: Old Salty Bourbon Cask is up at Barcade.
4/21-23/05: Brazen Head 9th 'Cask Head' Cask Ale Festival, will include a cask of Old Salty 2005
9/22/05: One of the few casks left of Old Salty 2004 just went up at Max's on Broadway in Baltimore.
9/12/05: Old Salty 2004 in bottles at Levee and Andys' Corner Bar.
7/23/05: Old Salty 2004 will be on draft, as well as various vintages of bottles, as part of Heayweight night at Spuyten Duyvil.
7/20:05: Old Salty 2002 (!!!) is on draft at Blind Tiger tonight, as part of their Christmas in July Event.
5/20/05-5/21/05: Brewed first batch of Old Salty 2005 at Heavweight.
2/18/05: As part of their BRRCade frozen beer festival, Barcade is putting up a tap of frozen, Bourbon-barrel Old Salty 2004-first keg ever!
2/10/05: Old Salty is still on draft at Waterfront (Manhattan), and a cask went up at Blind Tiger last night, as part of their barleywine fest.
1/8/05: A keg of the regular Old Salty was on tap at Barcade.
12/30/04 A Keg of Old Salty was up on draft at Waterfront (Manhattan).
12/18/04: Another keg of Old Salty "bourbon barrel" was put on tap at Barcade for their Winter Beer Fest.
12/1/04: A keg of Old Salty that was aged in a bourbon barrel was put on tap at Blind Tiger for their Hoiliday Festival. Note: some of this was bottled, also!!!
11/18/04: Wow, it's been a while since I updated this page! Anyway, there is a new keg of 2004 Old Salty at Barcade.
3/29/04: Oak-Aged 2003 Old Salty at Spuyten Duyvil. And the Matchless keg is still up...that means 2 kegs are up in a ten minute walk from my house, two different vintages! Life is good!
3/19/04: On draft at Matchless is 2002 Old Salty!
2/20/04: Sighted at Ginger Man was bottles of Old Salty. Not only, that, but there was a rendering of "Luitpold/Ludwig" on the blackboard in the inimitable Ginger Man blackboard style, which is shown below: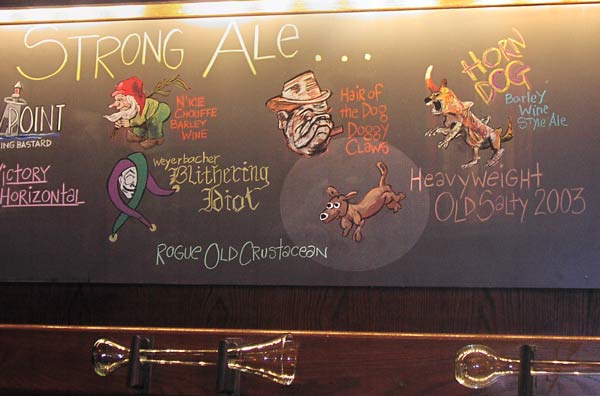 1/14/04: At Heavyweight Bout III at Blind Tiger, Wood-aged Old Salty will debut for this year. Also on the current draft list on the website Andy's Corner Bar, a caks of Old Salty is listed int the "Coming Soon" section.
12/11/03: per their current draft list, Old Salty is still up at Blind Tiger.
11/28/03: Matured Old Salty 2003 is appearing in several area bars, including Blind Tiger.
8/13/03: Old Salty 2003 will be making it's world premiere at Blind Tiger for the Dog Days of Summer II Event.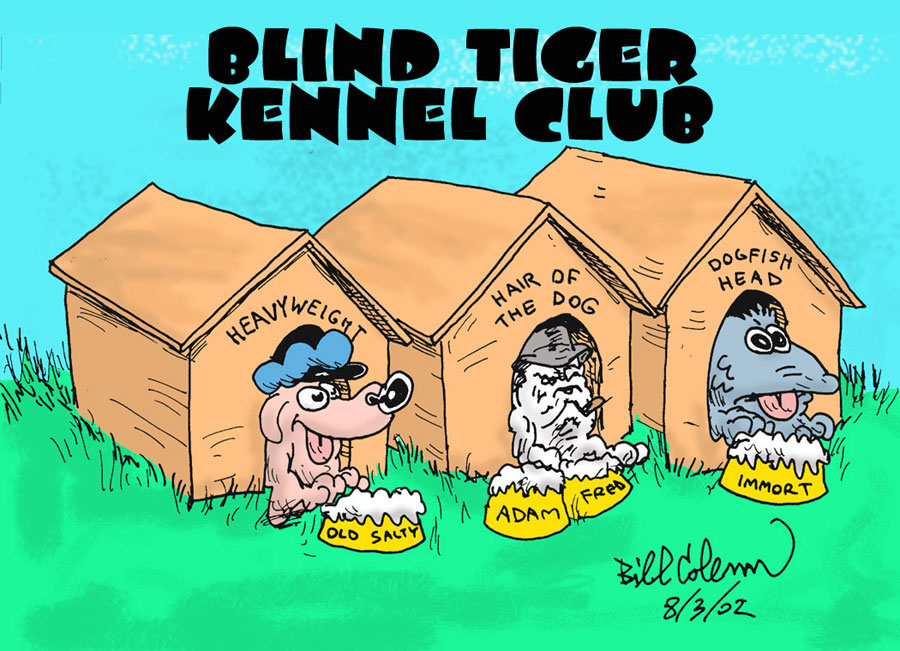 7/16/03: A special wood-aged cask of Old Salty will be served at Blind Tiger for their Christmas in July event.
5/9-10/03: Old Salty 2003 was brewed at Heavyweight. Read an account on their website here. Also, at the end of the brew session, we returned to Helmers and were happy to see another keg of Old Salty there.
3/26/03: This night, Old Salty 2002 was put on draft at Blind Tiger.
3/18/03: Old Salty 2002 sighted at Helmers.
2/21-23/03: I have it on good authority that 2 different vintages of Old Salty will appear this weekend at the Real Ale Festival at the Brazen Head. See Calendar for details.
1/15/03: Heavweight Vintage Bout II, The Blind Tiger Ale House, 6:00 p.m. onwards, 518 Hudson Street (on the corner of West 10th St.). Telephone: (212) 675-3848.2002. The second annual…featuring new, old, always bold Heavyweight Brewing & Tom Baker tasty classic concoctions, including, on draught, three different years of Old Salty (!), aged Lunacy, the very last keg of Stickenjab 2002, Hammered Druid, casks of Perkuno's Hammer and Cinderbock, bottles of Biere D'Art (to be added to the Blind Tiger's regular bottled beer list) and perhaps even more…! All this plus cheese and an appearance by the large dwarf himself!