---
Malted Barley Appreciation Society Newsletter
---
Vol. 4 No. 7 July 1997
---
---
by George De Piro
The June meeting was fantastic! The warm weather beckoned us to Mug's outdoor beer garden. There we were fortunate enough to meet our guest speakers, Joe Schineller and Lee Schlesinger, the new brewers from Hansens on Times Square. If you haven't been to Hansens in a while, it is now worth checking out! To say that the beer is better than before would be an understatement. Joe and Lee have really improved things up there.
Joe came to Hansens after brewing at Long Trail in Vermont. Lee joined up after completing a course of study at the University of California's Davis campus. They offer several different brewing courses there, ranging from a two year Master's program to shorter courses that emphasize certain aspects of brewing science. They shared their North German-style Pils with us, which they served from the coolest little wooden cask I've ever seen! The beer was cleanly brewed with a good hop presence and grainy palate. It was much better than beers that were previously brewed at Hansens. Joe and Lee explained how improving the beers is an on-going process. They first made some fairly drastic (and somewhat obvious) changes in the brewing procedures. The biggest change was in the yeast. The old brewer pitched dry yeast. Joe and Lee brought their own yeasts in and are not afraid of using different strains for different beers. They use a popular homebrewing Weizen strain, Wyeast 3068, for their Hefeweizen. They talked about how difficult this strain can be, and those of us that have used it agreed.
They also told us about how their grain is purchased pre-crushed and stored in Queens until it is needed. This is necessary because of the extremely limited amount of space they have at the Times Square location. This prompted a question about the safety of the bartenders at Hansens (to save space, the serving tanks are suspended from the ceiling over the bar).
Joe and Lee had to leave pretty early because they brew at night, in part because of space limitations (they can't brew with staff and customers around during the day). We had quite a good time after they left, though. We had a great turn out, and many people shared homebrew with us. Remember to bring your extract beers to next month's meeting; they'll be competing for the honor of being the club entry into the AHA "Extract Extravaganza" competition. All styles are eligible. The only restriction is that they must obtain at least 75% of their original gravity from malt extract. I hope to see even more of you at the July meeting!
---
Check out the Globe-trotting exploits of the Malted Barley Appreciation Society in this issue!
---
The Malted Barley Appreciation Society will be offering a beer appreciation class this fall. The goal of the class will be to prepare for the Beer Judge Certification Program (BJCP) exam on November 8. The class will start on Sept. 4 and will meet every Thursday thereafter for 10 weeks. The classes will start at 7:00 p.m. and last for about 3 hours. The last class will be just two days before the BJCP exam, so the material should still be fresh for the exam.
The class will meet in Manhattan, at 133 W. 25th St. #8E, between 6th & 7th Ave., unless we get more students in the next few weeks, in which case I will have to find a larger location. The cost of the class is $75; this will just cover the cost of beer and supplies for the tastings. Payment would be appreciated at the time of the August meeting. Payment can be given to George or Jim. If anyone wants more information about the class, you can call George at 201-305-5074 (work) or E-mail him at George_De_Piro@Berlex.com (although this E-mail address is highly unreliable).
---
On Wednesday, July 9, 7:30 PM, the Malted Barley Appreciation is proud to have as our guest John Baldy, of the Typhoon Brewery in Manhattan. In addition, many good homebrews should be available for the tasting. As usual, it is at Mug's Ale House, 125 Bedford Avenue in Brooklyn. See you there!
---
Note to readers: The Malted Barley Appreciation Society has joined the World Wide Web. Check out our many pages at: Malted Barley Appreciation Society Home Page.
Lastly, we have an E-Mail address. Any E-Mail can be sent to the editor at:
my E-Mail address. Keep those E-Mails coming in!
---
By Eric Freberg
I'm at a table with Lucy at the bar at the Hotel Erasmus in Bruges, anticipating the waiter's return with the Westvleteren I ordered. This is the one Trappist brewery from which I have not yet tasted a single (no pun intended) beer, and I am ready to compare it to the malty, alcoholic potency of Rochefort or the unique twang of Orval.
While waiting, I ponder our decision not to visit any of the monasteries themselves, they are not easily accessed by train, and we've heard that some don't encourage visitors (and or women). After all, finding the right cafes and bars (and we know where to look) can provide beer lovers like us with all the selection we could ever need. However, it would be shirking our responsibility as homebrewers not to see where some of this wonderful beer we've been sampling over the last week was made. So we decide to look for one of the two non-sectarian breweries in Bruges the next day, Straffe-Hendrick or de Gouden Boom.
Actually, to say we have not taken a beer tour yet would not be entirely true. There was the Brewery Museum in Brussels. This is located at the Grand Place in the heart of the old city, the building also houses the Confederation of Belgian Brewers. The architecture proves to be the most interesting part. Displays of brewing equipment, raw materials (anyone who hasn't seen barley or hops?), and a few computer terminals allow for a quick self-guided tour. I couldn't see how much it could benefit either for beginners or advanced brewers, but at least there were free samples at the end. Back to Bruges...Straffe-Hendrick turns out to be the one we find first, luckily only 5 people join us on the tour, but the guide still had to do her presentation in three languages. It seemed memorized and well-rehearsed, but also very interesting. Wandering through a maze of rooms, we saw some antiquated equipment left on display, and their former maltery. From the top of the building we saw the maltery's smokestack, but we knew we were really brought there for them to show off the view of the ancient city. Bruges is well preserved, relatively untouched by modern development - on many streets it is only the parked cars that remind you you're not in the 16th century. But back to beer... On the way down from the roof, the guide reminded us to watch our heads many times due to the low doors. Lucy failed to follow directions an whack! She was seeing stars for a few minutes and we hadn't even tried the brew. Back inside, there was also some brewing paraphernalia including a shrine to St. Arnoldus who saved lives during the plague by extolling the virtues of beer. A few days later in Brussels, we visited the Cantillon Brewery in the city's Anderlecht neighborhood. Apparently, a pastoral setting is not required for successful open fermentation. Anderlecht is more like the Brooklyn of Brussels, however, there was little car traffic on the weekend of our visit so maybe the air is not so bad.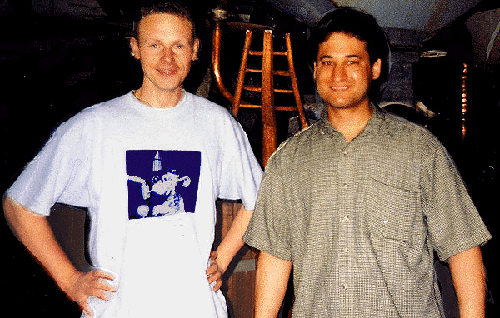 After a short walk from the Metro, we enter the brewery and a familiar sight appears - a Malted Barley Appreciation Society T-shirt! Where could that have come from, let's see...The gentleman donning our beloved Salty Dog turns out to be head brewer Jean Pierre van Roy, who begins us on what becomes a self guided tour, armed with detailed pamphlets. While Cantillon was described in earlier newsletters, I'll just add that aged hops do smell like cheese! Whew! At the end we sampled Gueuze, Kriek, Rose de Gambrinus, and surprisingly a Faro. Jean Pierre advises us to stick with Cantillon and Vandervelden, and blenders Drie Fontanein and Hanssens to ensure we are drinking traditional lambics, properly aged, no shortcuts.
And, if you're wondering about the Westvleteren, while not the most interesting of the Trappist beers, it did have a rich malty nose, and a complex, fruity flavor with hints of peach. And when the waiter brought a free sample of Trappist cheese to go with the beer, I knew we were a little closer to heaven!
---
by Warren Becker
My recent trip in April to the United Kingdom with Suzanne was an exploration of the many facets of English and Scottish regional culture, geographic beauty, history, and yes, ales.
Our journey began by flying into the new Manchester International Airport, and catching a morning train up to Windermere, a beautiful town nestled in the Lake District of northwest England. Windermere is famous for providing the backdrop Beatrice Potter used in her famous children's books, such as Peter Rabbit. This area of England is extremely picturesque with rolling green hills, herds of roaming sheep, and many lakes. Suzanne and I stayed at a B&B, the Burn-Howe, near Lake Windermere, surrounded with the green grass and beautiful flowers of the English gardens. We had sunny days, making the Lake District spectacular in natural beauty, with endless vistas in all directions.
The town of Windermere has some very nice pubs that offer a variety of local ales. At one such pub, Suzanne and I sampled the hoppy Flowers IPA, a smooth Cumberland Bitter, a fruity Castle Eden Bitter, an aromatic Lakeland Gold Pale Ale, Manchester's Boddington Bitter, and a nutty Marston Pedigree Bitter. These were all smooth and well balanced. Suzanne and I continued on our Windermere pub crawl by heading over to The Hole in the Wall Pub, an old 19th century pub owned and operated by the family of some British boxing champion whose name now escapes me. This pub is full of old photos lining its dark wood walls, creating a strangely familiar surrounding for a pub that I have never visited before. The lineup of ales that we enjoyed included: Robinson's Old Tom Strong Ale (which Suzanne christened Old Tom Kitten after a Beatrix Potter character), a smooth 8.5% ABV ale, with malt sweetness; Robinson's Best Bitter, pale and dry in flavor, 4.22% ABV; Hartley's XB Bitter with a nice hoppy nose, 4.2% ABV; finally, Frederic's Bitter, a smooth pale ale, 5.0% ABV.
Boarding a north-bound, high-speed train, we continued across the English countryside up to Edinburgh, Scotland. The train ride was relaxing, and its schedule ran on-time, but the beers available on board lacked the selection found at the local pubs. Suzanne and I arrived in Edinburgh at noon, and were amazed by the uncharacteristic cloudless blue skies, and a warm breeze. We headed over to the Sibbet House, an impressive Georgian townhouse/mansion B&B in the New Town section of Edinburgh, that we discovered on the Internet. George Sibbet, the master of the house, is a friendly, gracious host, who was running for Parliament at the time. Our top floor room was bright, spacious, and immaculately decorated in the Scottish style. Our first day in Edinburgh was full of sights to see, and yes, beer. We headed first to Edinburgh Castle, rich in history, situated at the top of the hill overlooking the city. The views were terrific. The castle museum contains many riches from the city's past, including its crown jewels. After trying to absorb all the historical data, I needed a drink, and by chance just a few yards from the castle gate is the Scotch Whiskey Museum. The museum could be described by some as a Scotch lover's play land, complete with interactive funhouse style rides similar to Disney's It's a Small World. And where do you think the ride ends? A bar greets you at completion of your journey through the whiskey making process with a complimentary tasting of the local elixir. Suzanne and I continued on down the Royal Mile, the street connecting Edinburgh Castle to the royal residence at Palace of Holyroodhouse, a sprawling estate at the foot of the mountains called Arthur's Seat. We stopped at Deacon Brodie's Tavern. This lovely old pub, established in 1703, is named after the town's religious leader that lead a Jekyll and Hyde existence, piety by day, lechery and thievery by night. But enough history, more beer! We tasted a smooth and light bodied Calder's 70 Shilling, and a whisky flavored Archibald Arrol's 80 Shilling. Next stop, Canon's Gait, where we sampled the cask conditioned Isle of Skye's Red Cuillin, a red ale with nice hoppy flavors, 4.2% ABV. The Orkney Dark Island 80 Shilling followed with chocolate malt flavor, 4.6% ABV. Suzanne again forced me to stop at another pub, Tolbooth Tavern, despite my attempts to inform her that there is more to Scotland than cask-conditioned ales (not!) Any way, we sipped a creamy McEwan's 70 Shilling that was delicious. In the New Town section, just right down the street from where we were staying, is the Wally Dug pub. Wally Dug is the Scottish pronunciation for Wooly Dog. At this small and smokey pub, we tried the Maclay Scotch Ale, a malty and fruity beer, 5.0% ABV, an IPA from the Thistle Brewery, 4.5% ABV, and a Ruddle's Strong Country Bitter, 4.9% ABV.
The final leg of our trip took us down the eastern side of Britain, passing through cities such as Newcastle and York. Suzanne and I planned our train trip so that we could take a brief tour of the medieval city of York. We unfortunately had to take our luggage out of the train station, due to IRA bombs scares. After stowing our bags off-site, we set out to explore this very old city of York. The history of York is vast. From an ancient Viking encampment, through the rise and fall of Richard III, York has survived many changes in its population's likes and dislikes. However, the locals love of fine ales has been a constant. Beers from the John Smith, Samuel Smith, Tetley, and Theakston breweries are found throughout the city. Suzanne and I had to catch the early train out, and could not complete our exploration of York's pubs.
We ended our trip in London. Despite the weather being chilly, we set off to enjoy the sights of this ever evolving city on the Thames. The new Shakespeare's Globe Theatre, the Cabinet War Rooms, and Westminister Cathedral were but some of the highlights. During our pub stops we enjoyed the new Young's Double Chocolate Stout, a velvety smooth stout with enticing chocolate aroma, and rich flavor. This was a delicious cask conditioned ale! Other cask conditioned ales sampled were: Sussex Bitter, Tetley's Bitter, and a Bombardier Ale, 4.7% ABV. Our trip to London, and Britain, for that matter, would not have been complete without a visit to the White Horse at Parson's Green. As luck would have it, we stumbled upon the Festival of Beers From the West Midlands and North Western Counties taking place at the White Horse that weekend. With more than 30 ales from breweries in the West Midlands and North West counties, brunch, music, and a barbecue, this festival drew a nice crowd, comprising mostly local CAMRA members. Suzanne and I enjoyed many terrific cask ales including: Essex Porter, thick and robust; Free Miner Stout, delicious malt sweetness; Cain's Formidable Ale, a British Strong, 1048 OG; and Robinson's Dark Best, 1033. There were so many ales being served, I could have easily lost track of their fine bottle selections. I however did not. Since time was pressing, Suzanne and I had to remove ourselves from this beer heaven, but before departing I made a small purchase of some of the prized bottles from their cellar, such as the Westvleteren 6, 8, and 12, John Courage Imperial Stout, Gale's Prize Old Ale, Greene King's Strong Suffolk, Whitbread Barley Wine, and Worthington White Shield.
Britain provided Suzanne and myself memories of friendly people, historic places, and delicious cask conditioned ales.
Return to the Malted Barley Home Page.
Any comments should be sent to Our E-Mail Address.